Education
IBBR offers a vibrant, multidisciplinary environment for postdoctoral and graduate training, as well as undergraduate and high school research internships. Research at IBBR is carried out under the direction of IBBR Fellows – UMCP and UMB faculty and NIST senior scientific staff.
-----
Postdoctoral Training at IBBR
Postdoctoral researchers are key to the scientific activities at IBBR. Typically, postdoctoral positions are supported by research grants or by individual postdoctoral fellowships. Individuals interested in pursuing postdoctoral studies at IBBR should contact IBBR Fellows directly about opportunities in their laboratories. Current postings for postdoctoral positions at IBBR are listed above.
Opportunities to pursue postdoctoral research in the laboratories of IBBR NIST Fellows are also available through the National Research Council's Research Associateship Program (RAP). Prospective applicants should consult the RAP website for eligibility criteria and application procedures. 
-----
Graduate Training at IBBR
IBBR Fellows are affiliated with the departmental graduate programs and interdisciplinary training programs listed below. For information about the admission process, courses of study, and degree requirements, prospective students should review the individual program websites and consult University of Maryland, College Park Graduate School and University of Maryland, Baltimore Graduate School.
University of Maryland, College Park
University of Maryland, Baltimore
-----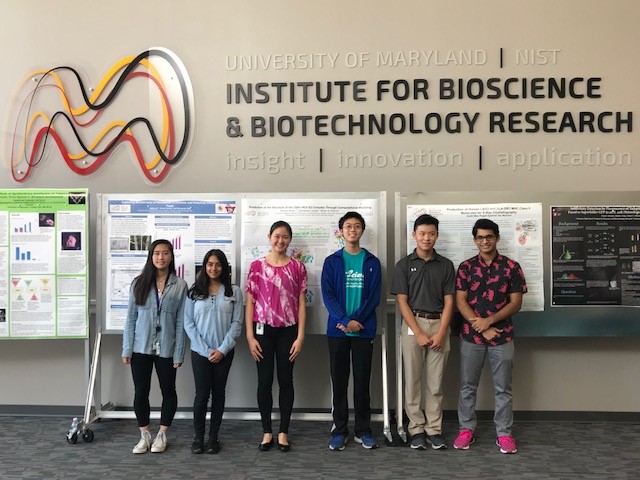 Undergraduate and High School Research Internships
Due to the many conflicts between the Covid-19 imposed restrictions and the existing requirements for close supervision of the HS student minors the 2021 research internship program has been canceled.  IBBR's Summer High School Internship program will return in 2022.  
Undergraduate will still be considered for Summer 2021 internships on a case-by-case basis, subject to Covid-19 restrictions and the existing safety protocols of the Institute, UMCP, UMB and NIST.  
IBBR welcomes applications for internships from students in the UMCP Biological Sciences Program at The Universities at Shady Grove. Contact the USG Program Director for additional information.
IBBR hosts students in the NIST MML/NCNR Summer Undergraduate Research Fellowship Program (Material Measurement Laboratory/NIST Center for Neutron Research).
IBBR offers high school internships for Montgomery County Public Schools (MCPS) students. Application are now closed for the 2020 program.